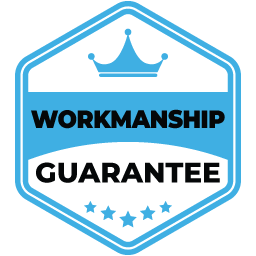 Experience That Protects Your Business
You need to focus on growing your business. We understand that you don't have time to deal with interruptions to your operations during roof repairs, let alone a complicated insurance claims process.
Let us do all the heavy lifting for you. We've built a full-proof process to help our commercial customers focus on what's most important to them. We will:
Schedule an inspection appointment with our experienced roofing team

Determine an accurate timeline and approach to meet your expectations

Act as your third-party advocate with insurance and mortgage companies

Ensure your business gets the most out of complicated insurance claims

Settle your insurance claims with limited disruptions to your business

Complete the repairs and update you on any pending progress
Commercial Roof Repair Services Near You
When violent weather is inevitable, you need commercial roofing contractors you can count on.
We're roofing experts available to assist you in anything from storm damage roof restoration to unexpected wear. Whether it's a large or small job, you can expect the same long-lasting commercial roof repairs that are tailored for your timeline and budget.
Key Roofing & Exteriors provide the following services:
Commercial roof repair:

Complete proactive repairs with high-quality materials that will last for years to come

Commercial roof replacement:

Replace your roofing system to provide your business the protection you need

Commercial roof restoration:

Save you money by restoring only the areas that require maintenance
In addition to repairs, we offer personalized and white glove customer service for your business every step of the way. When dealing with complicated insurance claims, our team will act as your advocate to ensure you maximize your settlement and keep out-of-pocket repairs to a minimum.
Local Commercial Roofing Contractor Services for Your Business
Don't put your business's roof in the hands of any commercial roofing contractor. Our team will help you throughout the entire process—from inspection, insurance claims, and the final repairs—so you can get back to your day-to-day operations. With a full suite of commercial roof repair services, our team will help your business quickly return to normalcy without the hassle.
Schedule an inspection today with Key Roofing & Exteriors to take the guesswork out of your business's roof repair.
White Glove Trusted Customer Service
If you've experienced storm damage, you're not alone.
Insurance claims are complicated, especially when you're juggling pending repairs and the chaos from normal life. Our team will work directly with the insurance claim company to maximize your claim amount to keep money in your pocket and quickly repair your roof.
We know you want to settle your claim with limited friction so you can get your roof repaired and return to your life. We work directly with your insurance company to ensure the process is handled smoothly.
Discover Your Local Commercial Roofing Contractor
From our inspection to the insurance claim and repairs, our team will help you throughout the entire process. With comprehensive commercial roofing services and experience working with insurance companies, we guarantee quick and effortless service so you can return to normalcy.
Schedule an Inspection Today!
Let Key Roofing & Exteriors take the guesswork out of your commercial roof repair by scheduling an inspection today.